Home | Kalimat Bahasa Inggris dari Kata Climb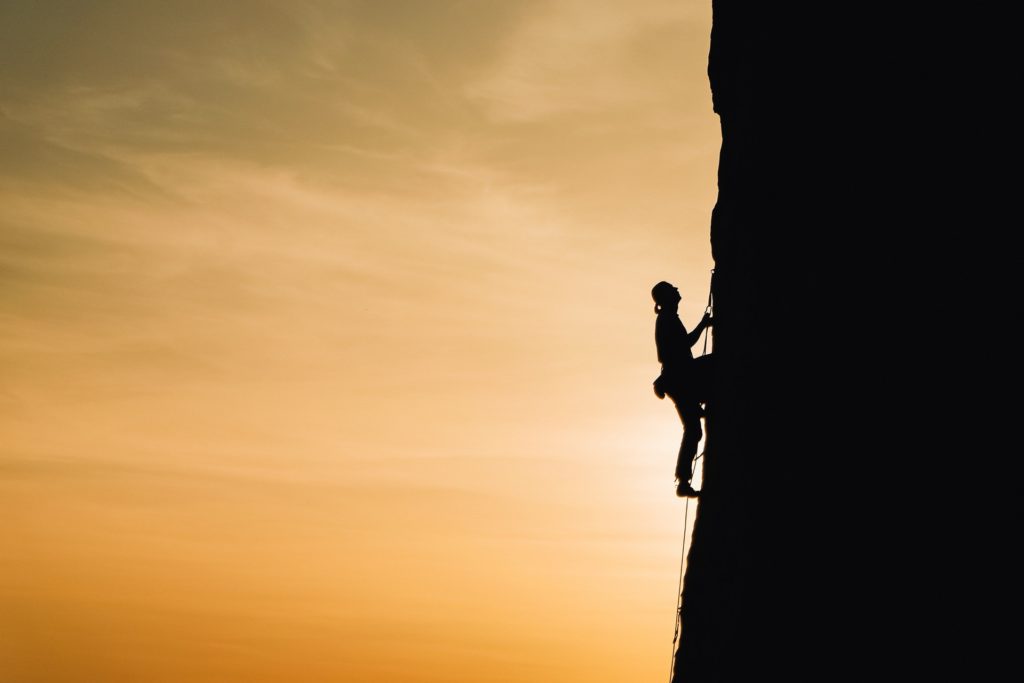 Climb
Let's go to climb the mountain this weekend.
You have to travel between the trailheads for each climb on foot.
Anda harus melakukan perjalanan di antara ujung jalan setapak untuk setiap pendakian dengan berjalan kaki.
I'm supposed to climb the North Mountain now and see a great view of the snow, but here I am.
Saya seharusnya mendaki Gunung Utara sekarang dan melihat pemandangan salju yang indah, tapi di sinilah saya.
We had to climb from dangerous trails because of the usual trails is renovated.
Kami harus mendaki dari jalur berbahaya karena jalur yang biasa sedang direnovasi.
This area on the eastern side of the Sierra Nevada mountains offers a wide range of hiking options: bouldering; sport climbing, which uses an anchor permanently fixed to the rock; and traditional climbing (trad), which involves climbing using removable protective equipment.
Daerah di sisi timur pegunungan Sierra Nevada ini menawarkan berbagai macam pilihan hiking: bouldering; olahraga panjat tebing, yang menggunakan jangkar yang dipasang secara permanen pada batu; dan pendakian tradisional (trad), yaitu memanjat menggunakan alat pelindung yang bisa dilepas.
If you want to try a sport that gets your adrenaline pumping, you should try rock climbing.
Jika Anda ingin mencoba olahraga yang memacu adrenalin, Anda harus mencoba panjat tebing.
Many visitors come for August's Idaho Mountain Festival, a celebration of climbing with top athletes and gear manufacturers in attendance.
Banyak pengunjung datang ke Idaho Mountain Festival di bulan Agustus, sebuah perayaan pendakian dengan dihadiri atlet papan atas dan produsen perlengkapan.
It's possible to climb Grand Teton, the towering peak which gives its name to the park.
Anda bisa mendaki Grand Teton, puncak yang menjulang tinggi yang menjadi asal muasal taman ini.
When he arrived, the mustang was parked so close to the apartment that he had to walk around it to climb the stairs.
Ketika dia tiba, mustang itu diparkir sangat dekat dengan apartemen sehingga dia harus berjalan mengelilinginya untuk menaiki tangga.
I tried combining rock climbing with ice climbing and that sounds like a good idea, right?
Saya mencoba menggabungkan panjat tebing dengan panjat es dan kedengarannya ide yang bagus, bukan?
He liked climbing much better than spelling, but that was because he didn't yet know how beautiful the language was.
Dia lebih suka memanjat daripada mengeja, tapi itu karena dia belum tahu betapa indahnya bahasanya.
They began the arduous climb, panting on the plateau for ten minutes until the path was level and opened to their left.
Mereka memulai pendakian yang sulit, terengah-engah di dataran tinggi selama sepuluh menit sampai jalan setapak rata dan terbuka ke kiri.
Darting down the stairs, she ran to the stage office, arriving as the driver was preparing to climb into the seat.
Melesat menuruni tangga, dia berlari ke kantor panggung, tiba ketika pengemudi bersiap untuk naik ke kursi.
It seemed that every other rider had passed him on the climb until he looked down the mountain and saw the hundreds of dots of color still struggling up the incline behind him.
Tampaknya setiap pengendara lain telah melewatinya dalam pendakian sampai dia melihat ke bawah gunung dan melihat ratusan titik warna masih berjuang menaiki tanjakan di belakangnya.
The creeping or trailing types are common, as in English bindweed (Convolvulus arvensis), which also has a tendency to climb, and Calystegia Soldanella, bindweed seaweed, a long stalk that crawls to form a sandbinder on the English coast; A widespread and efficient tropical sand binder is Ipomaea Pes-Caprae.
Jenis merayap atau trailing adalah umum, seperti dalam bahasa Inggris bindweed (Convolvulus arvensis), yang juga memiliki kecenderungan untuk mendaki, dan Calystegia Soldanella, rumput laut bindweed, tangkai panjang yang merangkak membentuk sandbinder di pantai Inggris; Pengikat pasir tropis yang tersebar luas dan efisien adalah Ipomaea Pes-Caprae.
He didn't understand what his instincts were trying to tell him, but now, they wanted him to climb a tree to see the lake from above.
Dia tidak mengerti apa yang instingnya coba katakan padanya, tapi sekarang, mereka ingin dia memanjat pohon untuk melihat danau dari atas.
She tried climbing a tree near her house and she was very happy with his new experience.
Dia mencoba memanjat pohon di dekat rumahnya dan dia sangat senang dengan pengalaman barunya.
A grateful shadow, and the tree was so easy to climb that with the help of my teacher I was able to scramble to sit on the branch.
Bayangan yang bersyukur, dan pohon itu begitu mudah untuk dipanjat sehingga dengan bantuan guru saya, saya bisa berebut untuk duduk di dahan.
He barely walked before he prepared for the long climb and gradually fell into a kind of rhythm, muscle aches and gasping for breath as he shuffled up the first long incline.
Dia hampir tidak berjalan sebelum dia bersiap untuk pendakian panjang dan secara bertahap jatuh ke semacam ritme, nyeri otot dan terengah-engah saat dia berjalan di tanjakan panjang pertama.
She watched him climb stiffly into his wagon and knew a moment of sadness when she remembered that before long she would be leaving and she would never see him again.
Dia melihatnya naik dengan kaku ke gerobaknya dan tahu saat sedih ketika dia ingat bahwa tidak lama lagi dia akan pergi dan dia tidak akan pernah melihatnya lagi.
The illustrative strings and the orange stick representing the poles seemed so real that even to this day the mere mention of temperate zone suggests a series of twine circles; and I believe that if any one should set about it he could convince me that white bears actually climb the North Pole.
String ilustrasi dan tongkat oranye yang mewakili kutub tampak begitu nyata sehingga bahkan hingga hari ini penyebutan zona sedang saja menunjukkan serangkaian lingkaran benang; dan saya yakin jika ada yang mau memulai, dia bisa meyakinkan saya bahwa beruang putih benar-benar mendaki Kutub Utara.
On the outskirts of the plateau there are several gaps or grooves, which are best likened to a giant trench, like a railroad cut, because with an inconspicuous slope they climb to a higher level.
Di pinggiran dataran tinggi ada beberapa celah atau alur, yang paling baik disamakan dengan parit raksasa, seperti potongan rel kereta api, karena dengan kemiringan yang tidak mencolok, mereka naik ke tingkat yang lebih tinggi.