Home | Kalimat Bahasa Inggris dari Kata Clock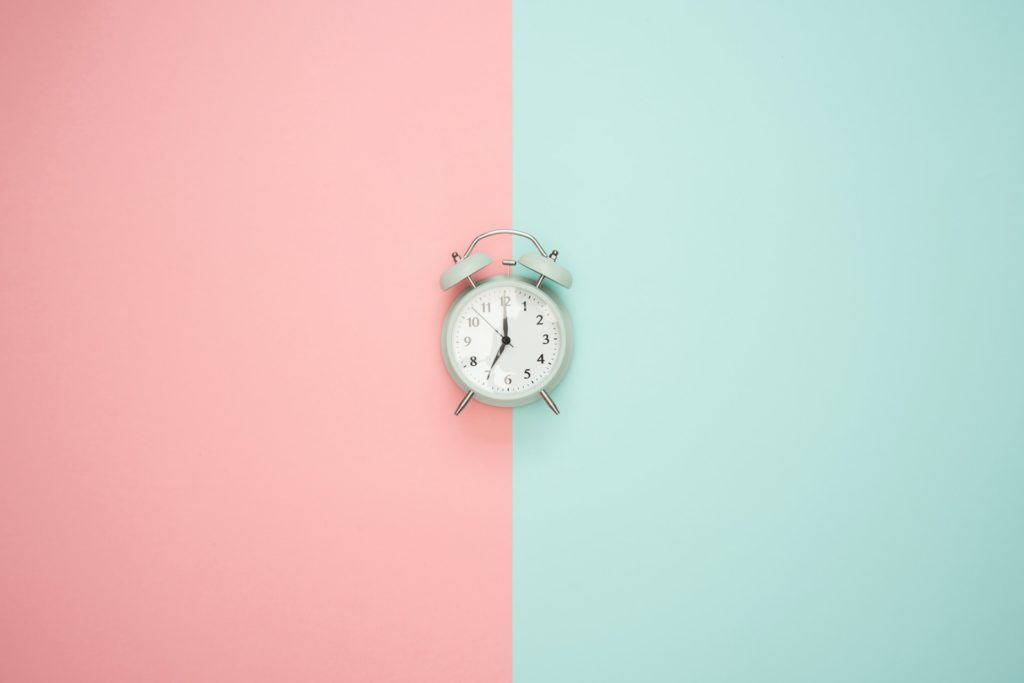 Clock
Did you find the clock?
Apakah kamu menemukan jamnya?
Which clock do you like? The red clock or the green one?
Jam yang mana yang kamu sukai? Jam berwarna merah atau yang berwarna hijau?
You can place the clock on that wall.
Kamu bisa meletakkan jamnya di dinding itu.
I want to find an invisible clock which is only has hand of clock without body.
Saya ingin mencari jam tak terlihat yang hanya memiliki jarum jam tanpa badan.
I will come home at five o'clock.
Saya akan pulang jam lima tepat.
She still looks at the clock without do anything.
Dia masih melihat jam tanpa melakukan apapun.
She is waiting for lunch time by starring at the clock.
Dia sedang menunggu waktu makan siang dengan menatap jam dinding.
This is the most unique design of clock in the world.
Inilah desain jam terunik di dunia.
Please turn off the alarm clock.
Tolong matikan jam alarm.
Your mom voice is the best wake up alarm clock at home.
Suara ibumu adalah alaram bangun terbaik yang ada di rumah.
Using these clocks mean you don't need to rely on your mobile phone.
Menggunakan jam ini berarti Anda tidak perlu bergantung pada ponsel Anda.
For a similar price you can get a radio-controlled clock that sets the time automatically when it is first switched on.
Dengan harga yang sama, Anda bisa mendapatkan jam yang dikendalikan radio yang menyetel waktu secara otomatis saat pertama kali dinyalakan.
Pitfalls to look out for are screens that are too bright at night, dimmer functions that make high-pitched whines and analogue clocks that make loud ticking sounds.
Kesalahan yang harus diperhatikan adalah layar yang terlalu terang di malam hari, fungsi redup yang membuat rengekan bernada tinggi, dan jam analog yang mengeluarkan suara detak keras.
If you want to go sleep earlier, make a good concentration and relax with clock voice at your room.
Jika Anda ingin tidur lebih awal, berkonsentrasilah dan bersantailah dengan suara jam di kamar Anda.
I want to buy that LED clock.
Saya ingin membeli jam LED itu.
You can have a personal assistance at your home with multifunction uses such as clock, playing music automatically, find some references, and remind your schedule.
Anda bisa mendapatkan bantuan pribadi di rumah dengan kegunaan multifungsi seperti jam, memutar musik secara otomatis, mencari referensi, dan mengingatkan jadwal Anda.
He is now asking States Members to agree to the clock being repaired by 31 December, to request the Treasury Minister to formally transmit the view of the States to Ports of Jersey and to request the same minister to report back no later than 30 November with an update.
Dia sekarang meminta Anggota Negara untuk menyetujui jam yang akan diperbaiki pada tanggal 31 Desember, untuk meminta Menteri Keuangan untuk secara resmi mengirimkan pandangan Amerika ke Ports of Jersey dan untuk meminta menteri yang sama untuk melaporkan kembali selambat-lambatnya 30 November dengan memperbarui.
Over the years many Islanders have criticised the clock, which was commissioned by the Waterfront Enterprise Board in 1996 at a cost of £250,000 to taxpayers.
Selama bertahun-tahun banyak penduduk pulau mengkritik jam tersebut, yang ditugaskan oleh Waterfront Enterprise Board pada tahun 1996 dengan biaya £ 250.000 kepada pembayar pajak.
The porcelain clock on the wall proclaimed the time as ten minutes until twelve, but it didn't seem that late.
Jam porselen di dinding menyatakan waktu sebagai sepuluh menit sampai dua belas, tetapi tampaknya tidak terlambat.
We found a new smart clock using solar panel so we are not only found an invention but also a new way to make eco electricity.
Kami menemukan jam pintar baru yang menggunakan panel surya sehingga kami tidak hanya menemukan penemuan tetapi juga cara baru untuk membuat listrik ramah lingkungan.
She checked the clock on the nightstand then the notepad listing the time of the flight she'd booked the afternoon before after exploring the mansion.
Dia memeriksa jam di meja samping tempat tidur, lalu di buku catatan yang mencantumkan waktu penerbangan yang dia pesan sore sebelumnya setelah menjelajahi mansion.
The head butler, napkin on arm, was scanning the setting of the table, making signs to the footmen, and anxiously glancing from the clock to the door by which the prince was to enter.
Kepala pelayan, dengan serbet di lengan, sedang memindai pengaturan meja, memberi tanda kepada para pelayan, dan dengan cemas melihat dari jam ke pintu tempat pangeran akan masuk.
However, a clock tower of the building sustained damage over the years.
Namun, menara jam bangunan mengalami kerusakan selama bertahun-tahun.
I never see a clock tower in this town, so is it a new building?
Saya tidak pernah melihat menara jam di kota ini, jadi apakah ini gedung baru?
He rose and crossed to the fireplace and began to bank the fire as the hall clock struck eleven times.
Dia bangkit dan menyeberang ke perapian dan mulai membakar api saat jam aula berdentang sebelas kali.
At that moment the great clock struck two and another with a shrill tone joined in from the drawing room.
Pada saat itu jam besar berdentang dua dan satu lagi dengan nada melengking bergabung dari ruang tamu.
Whenever I look at my watch and its hands point to ten, I hear the bells of the neighboring church; but because the bells begin to ring when the hands of the clock reach ten, I have no right to assume that the movement of the bells is caused by the position of the hands of the watch.
Setiap kali saya melihat arloji saya dan tangannya menunjuk ke sepuluh, saya mendengar lonceng gereja tetangga; tetapi karena lonceng mulai berbunyi saat jarum jam mencapai sepuluh, saya tidak berhak berasumsi bahwa pergerakan lonceng tersebut disebabkan oleh posisi jarum jam.
The clock is one of the oldest human inventions, meeting the need to measure intervals of time shorter than the natural units: the day, the lunar month, and the year.
Jam adalah salah satu penemuan manusia tertua, memenuhi kebutuhan untuk mengukur interval waktu yang lebih pendek dari satuan alami: hari, bulan lunar, dan tahun.