Home | Kalimat Bahasa Inggris dari Kata Table
Table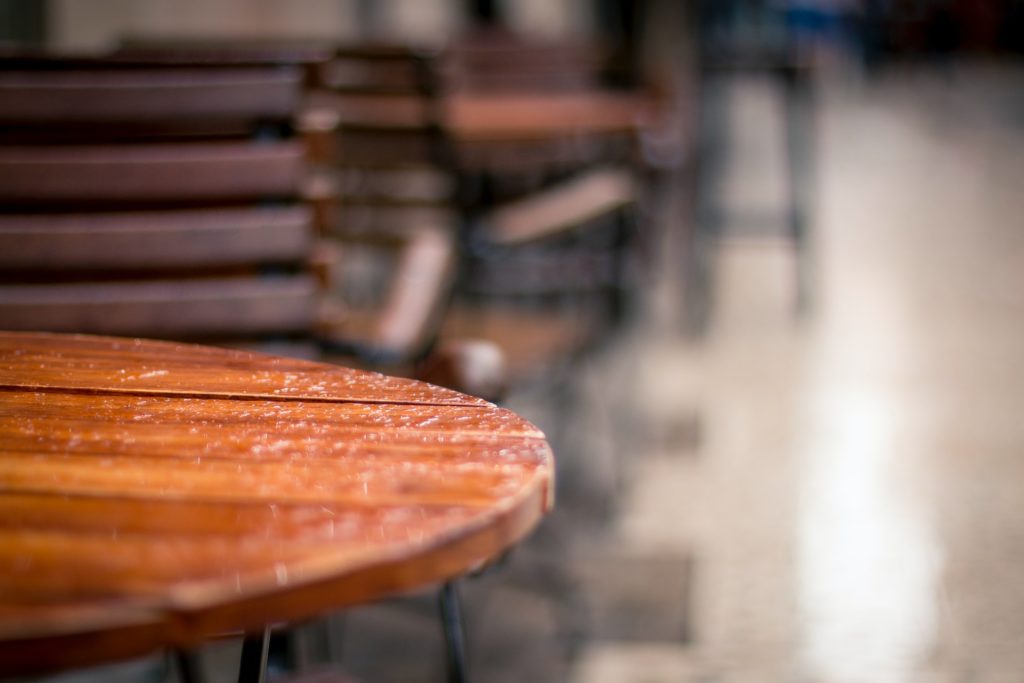 Where is the table?
Di mana mejanya?
I forget where I put the table.
Saya lupa di mana meletakkan mejanya.
The table is used by my sister.
Mejanya digunakan oleh saudara perempuan saya.
I think that red table is better than green one.
Saya pikir meja berwarna merah itu lebih baik dibandingkan dengan yang warna hijau.
I love the design of this table.
Saya suka desain dari meja ini.
We use this table because it is multifunction and we can save it ini at a small room.
Kami menggunakan meja ini karena multifungsi dan kita bisa menyimpannya di ruangan yang kecil.
I put my job at your table yesterday, remember?
Saya meletakkan pekerjaan saya di meja Anda kemarin, ingat?
When there is an earthquake, find a safe location, get away from the wall or you can hide yourself under table.
Ketika ada gempan, temukan sebuah tempat yang aman, jauhi dinding atau kamu bisa bersembunyi di bawah meja.
I bought a new table yesterday.
Saya membeli sebuah meja baru kemarin.
You can use my table.
Kamu bisa menggunakan mejaku.
Why do you bring this table?
Kenapa kamu membawa meja ini?
This room need a table for the decoration on the corner.
Kamar ini membutuhkan sebuah meja untuk hiasan di bagian sudut.
We can change the table in front of the chair if you want.
Kita bisa mengubah meja di depan kursi jika kamu ingin.
Put a flower on the table and it will look perfect.
Letakkan sebuah bunga di atas meja dan itu akan terlihat sempurna.
Please, clean your table!
Tolong bersihkan mejamu!
I don't know why but I love this table so much.
Saya tidak tahu kenapa tetapi saya sangat menyukai meja ini.
Why don't you take this table out from here?
Kenapa kamu tidak meletakkan meja ini keluar dari sini?
You broke my grandma's table.
Kamu merusak mejanya nenekku.
Stay out from my table or you'll know what I will do to you.
Pergi dari mejaku atau kamu akan tahu apa yang akan kulakukan padamu.
There is a discount for that table in IKEA.
Ada diskon untuk meja itu di IKEA.
Do you think we need this big table?
Apakah kamu berpikir kami membutuhkan meja besar ini?
I will eat on my table.
Saya akan makan di meja saya.
She likes the color of that table, should we buy it?
Dia menyukai warna dari meja ini, apakah kita harus membelinya?
That furniture store will release a new design of table and maybe the chair too.
Toko furniture itu akan merilis sebuah desain meja baru dan mungkin juga kursinya.
Stop doing unnecessary thing on my table.
Hentikan melakukan hal yang tak berguna di mejaku.
Stay away from his table!
Menjauh dari mejanya!
We took your table to the kitchen before you relized it.
Kami membawa meja Anda ke dapur sebelum Anda menyadarinya.
We have change this room interior and also the furniture just like the table, the chair and the wallpaper.
Kami telah mengubah interior ruangan ini dan juga furniturnya seperti meja, kursi, dan wallpaper.
You make this table dirty.
Kamu membuat meja ini kotor
Sisca has to clean the table before our teacher come.
Sisca harus membersihkan meja sebelum guru kita datang.
You put your books on the table.
Kamu meletakkan bukumu di meja.
Look your stuff on my table.
Lihat barang-barang Anda di meja saya.
Dinner is ready on the table, let's eat.
Makan malam sudah siap di meja, ayo makan.
You can see that this high quality wood table is very precious.
Anda dapat melihat bahwa meja kayu berkualitas tinggi ini sangat berharga.
I found your wallet but I left it on my table.
Saya menemukan dompet Anda, tetapi saya meninggalkannya di meja saya.
Take your wallet on my table after you finish your job.
Ambil dompetmu di mejaku setelah kamu menyelesaikan pekerjaanmu.
I have some fruits on the kitchen table if you want some snacks.
Saya punya beberapa buah di meja dapur jika Anda ingin makanan ringan.
Princess Mary saw Dessalles' embarrassed and astonished look fixed on her father, noticed his silence, and was struck by the fact that her father had forgotten his son's letter on the drawing-room table; but she was not only afraid to speak of it and ask Dessalles the reason of his confusion and silence, but was afraid even to think about it.
Putri Mary melihat ekspresi malu dan heran Dessalles tertuju pada ayahnya, melihat kebisuannya, dan terkejut oleh kenyataan bahwa ayahnya telah melupakan surat putranya di meja ruang tamu; tapi dia tidak hanya takut untuk membicarakannya dan menanyakan Dessalles alasan kebingungan dan kebisuannya, tapi bahkan takut untuk memikirkannya.
He sat down at the dusty writing table, and, having laid the manuscripts before him, opened them out, closed them, finally pushed them away, and resting his head on his hand sank into meditation.
Dia duduk di meja tulis yang berdebu, dan, setelah meletakkan manuskrip di hadapannya, membukanya, menutupnya, akhirnya mendorongnya pergi, dan meletakkan kepalanya di atas tangannya tenggelam dalam meditasi.
I sat at a table where were rich food and wine in abundance, and obsequious attendance, but sincerity and truth were not; and I went away hungry from the inhospitable board.
Saya duduk di meja di mana makanan dan anggur yang berlimpah berlimpah, dan kehadiran yang patuh, tetapi ketulusan dan kebenaran tidak; dan saya pergi lapar dari papan yang tidak ramah.
We surprised our dear friends, however, for they did not expect us Saturday; but when the bell rung Miss Marrett guessed who was at the door, and Mrs. Hopkins jumped up from the breakfast table and ran to the door to meet us; she was indeed much astonished to see us.
Namun, kami mengejutkan teman-teman terkasih kami, karena mereka tidak mengharapkan kami pada hari Sabtu; tetapi ketika bel berbunyi, Miss Marrett menebak siapa yang ada di depan pintu, dan Nyonya Hopkins melompat dari meja sarapan dan berlari ke pintu untuk menemui kami; dia memang sangat heran melihat kami.
On the other table, round which many people were crowding, a tall well-fed man lay on his back with his head thrown back.
Di meja lain, di mana banyak orang berkerumun, seorang pria jangkung kenyang berbaring telentang dengan kepala menunduk.