Home | Kalimat Bahasa Inggris dari Kata Two
Two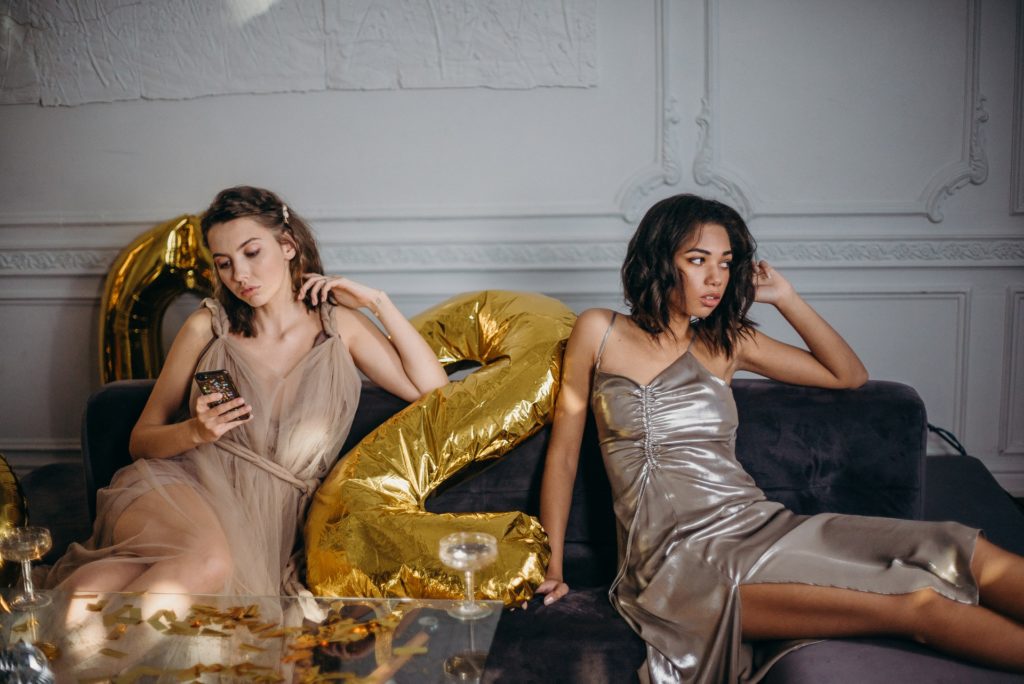 I have two pieces of cake, do you want one of them?
Saya memiliki dua buah kue, apakah kamu menginginkan salah satu darinya?
There was two pairs of shoes here and now just one pair, where is the other one?
Tadi ada dua pasang sepatu di sini dan sekarang hanya satu pasang, kemana yang satunya?
I have two brothers and they are twin.
Saya memiliki dua saudara laki-laki dan mereka kembar.
There are two kittens waiting for you to give them some foods.
Ada dua ekor kucing yang menunggumu untuk memberikannya makanan.
I need to talk about two of your points on your presentation.
Saya perlu berbicara tentang dua poin Anda dalam presentasi Anda.
I want a tea, a lemonade, two meatballs and a french fries.
Saya ingin teh, limun, dua bakso, dan kentang goreng.
If you need help, just ask me and two of us will help you.
Jika kamu membutuhkan bantuan, cukup minta kepada saya dan dua orang dari kami akan membantumu.
What do you mean you don't have two pieces of cake? I have told you about this before and now you only give me one!
Apa maksudmu kamu tidak punya dua potong kue? Saya telah memberi tahu Anda tentang ini sebelumnya dan sekarang Anda hanya memberi saya satu!
Before you go to that place, I have went there before and I got two dolls after playing a game.
Sebelum Anda pergi ke tempat itu, saya pernah pergi ke sana sebelumnya dan saya mendapatkan dua boneka setelah bermain game.
You have two active accounts here, so which one do you want to use?
Anda memiliki dua akun aktif di sini, jadi mana yang ingin Anda gunakan?
I give you two bowls of soup it doesn't mean you have to eat all of them right now.
Aku memberimu dua mangkuk sup, itu tidak berarti kamu harus makan semuanya sekarang.
It has been two years since the last time I saw her and she is more beautiful.
Sudah dua tahun sejak terakhir kali saya melihatnya dan dia lebih cantik.
Do you want me to pay your two books right there?
Apakah Anda ingin saya membayar dua buku Anda di sana?
I have called you two times but you don't hear me.
Saya telah menelepon Anda dua kali tetapi Anda tidak mendengar saya.
I feed two penguins on the zoo and it was so cute.
Saya memberi makan dua penguin di kebun binatang dan itu sangat lucu.
This year her age will be twenty two but her gesture still like a child.
Tahun ini usianya akan menginjak dua puluh dua tahun tapi sikapnya masih seperti anak kecil.
You have to buy a bunch of spinach, two kilograms of eggs, one kilograms of meat and salt on the market.
Anda harus membeli seikat bayam, dua kilogram telur, satu kilogram daging dan garam di pasar.
Just in case I don't go home till the night, you can buy two boxes of pizza for dinner by delivery order and pay it using this money.
Kalau-kalau saya tidak pulang sampai malam, Anda dapat membeli dua kotak pizza untuk makan malam dengan pesan antar dan membayarnya menggunakan uang ini.
The bucket of flowers is so beautiful but sadly I find two thorns on the rose.
Ember bunga sangat indah tapi sayangnya saya menemukan dua duri di mawar
May I help you with those two bags of vegetable?
Bolehkah saya membantu Anda dengan dua kantong sayuran itu?
This building has been here since two decades ago and it still look strong.
Bangunan ini sudah ada sejak dua dekade lalu dan masih terlihat kokoh.
You can see how it implemented in real life with these two examples below.
Anda dapat melihat bagaimana ini diterapkan dalam kehidupan nyata dengan dua contoh di bawah ini.
Two millennia later, it is fair to assume that humans are still capable of this kind of memory.
Dua ribu tahun kemudian, cukup adil untuk mengasumsikan bahwa manusia masih mampu memiliki memori semacam ini.
Two or three times we stopped to rest under a tree by the wayside.
Dua atau tiga kali kami berhenti untuk beristirahat di bawah pohon di pinggir jalan.
Farmers in Ethiopia bring their crops to any of two hundred market centers around the country.
Para petani di Ethiopia membawa hasil panen mereka ke salah satu dari dua ratus pusat pasar di seluruh negeri.
The biggest thing you two have against each other is that you're so much alike.
Hal terbesar yang kalian berdua miliki terhadap satu sama lain adalah bahwa kalian sangat mirip.
The window frame which prevented anyone from sitting on the outer sill was being forced out by two footmen, who were evidently flurried and intimidated by the directions and shouts of the gentlemen around.
Bingkai jendela yang menghalangi siapa pun untuk duduk di ambang luar dipaksa keluar oleh dua pelayan, yang jelas-jelas dibuat bingung dan diintimidasi oleh arahan dan teriakan para pria di sekitar.
I need two balls to teach them soccer and team work tomorrow.
Saya butuh dua bola untuk mengajari mereka sepak bola dan kerja tim besok.
Why do you think two laptops are unnecessary?
Menurut Anda, mengapa dua laptop tidak diperlukan?
Do you want to have two kids?
Apakah Anda ingin punya dua anak?
I am standing in front of two big building.
Saya berdiri di depan dua gedung besar.
Anatole brought two candles and placed them on the window sill, though it was already quite light.
Anatole membawa dua lilin dan meletakkannya di ambang jendela, meski saat itu sudah cukup terang.
I was order two packages of noodles so I can enjoy it on the weekend with you.
Saya memesan dua bungkus mie jadi saya bisa menikmatinya di akhir pekan bersama Anda.
Of two patterns which differ only by a few threads more or less of a particular color, the one will be sold readily, the other lie on the shelf, though it frequently happens that after the lapse of a season the latter becomes the most fashionable.
Dari dua pola yang hanya berbeda dengan beberapa benang kurang lebih dari warna tertentu, yang satu akan dijual dengan mudah, yang lain terletak di rak, meskipun sering terjadi bahwa setelah lewat musim yang terakhir menjadi yang paling modis.