Home | Ragam Kutipan dalam Bahasa Inggris Tentang Bunga
Ketika mendengar kata bunga, yang terlintas di pikiran kita adalah satu atau sekumpulan dedaunan cantik dengan berbagai macam warna dan jenis. Ada begitu banyak bunga yang telah diketahui namanya di dunia ini.
Bunga kerap kali diibaratkan sebagai "hadiah terindah dari alam", "simbol cinta dan kasih sayang" atau "keindahan yang hakiki". Tak heran, bunga banyak disandingkan dengan sesuatu atau seseorang yang indah atau cantik.
Nah, melalui artikel kali ini, kita akan mempelajari ragam kutipan bijak tentang bunga dalam Bahasa Inggris, juga sebagai bentuk penghargaan atas salah satu ciptaan Tuhan yang paling indah di dunia ini.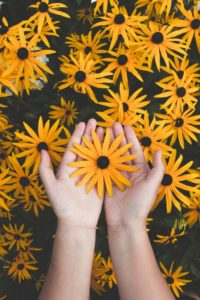 Do not wait for someone to bring you flowers. Plant your own garden and decorate your own soul – Luther Burbank.
(Jangan menunggu seseorang membawakanmu bunga. Tanamilah tamanmu sendiri dan tatalah jiwamu sendiri – Luther Burbank.)
There are always flowers for those who wants to see them – Henri Mattise.
(Bunga-bunga akan selalu ada bagi mereka yang ingin melihatnya – Henri Mattise.)
Even the tiniest of flowers can have the toughest roots – Shannon Mullen.
(Bahkan bunga-bunga yang paling kecil sekalipun bisa memiliki akar yang paling kuat – Shannon Mullen.)
Without sunlight, flowers cannot thrive. Just like flowers, without love humans will not be able to grow and recognize various feelings.
(Tanpa sinar matahari, bunga-bunga takkan bisa tumbuh subur. Seperti bunga-bunga, tanpa cinta manusia takkan bisa tumbuh dan mengenal macam-macam perasaan.)
Values in life are like flowers that are reluctant to directly show themselves; you have to look for them until you find them.
(Nilai-nilai dalam hidup itu seperti bunga-bunga yang sungkan menampakkan dirinya secara langsung; kau harus mencarinya hingga kau menemukannya.)
Like flowers that will bloom sooner or later, allow yourself to grow and slowly discover its talents.
(Layaknya bunga-bunga yang akan mekar cepat atau lambat, izinkanlah dirimu bertumbuh dan perlahan menemukan talentanya.)
Many eyes go through the meadow, but few see the flowers in it – Ralph Waldo Emerson.
(Banyak mata yang memandangi padang rumput, namun hanya beberapa mata saja yang melihat bunga-bunga di sana – Ralph Waldo Emerson.)
Do not let the tall weeds cast a shadow on the beautiful flowers in your garden – Steve Maraboli.
(Jangan biarkan rerumputan liar yang tinggi menciptakan bayang-bayang kepada bunga-bunga indah di tamanmu – Steve Maraboli.)
Flowers do not worry about how they are going to bloom. They just open up and turn forward the light and that makes them beautiful – Jim Carrey.
(Bunga-bunga tidak mencemaskan bagaimana mereka akan mereka. Mereka akan membuka dan mengarahkan diri mereka kepada cahaya dan itulah yang membuat mereka indah – Jim Carrey.)
Do not underestimate the wild flowers that grow in various places. They too will grow as beautiful as the flowers that are cared for inside a greenhouse.
(Jangan remehkan bunga-bunga liar yang tumbuh di segala macam tempat. Mereka pun akan tumbuh sama indahnya seperti bunga-bunga yang dirawat di dalam rumah kaca.)
What makes flowers magical is that, after a long winter, they will bloom beautifully when spring comes.
(Apa yang membuat bunga-bunga itu indah adalah, setelah musim dingin yang panjang, mereka akan mekar dengan indahnya ketika musim semi tiba.)
There are many things that bring happiness in this world and flowers are one of those many happiness.
(Ada banyak hal yang membawa kebahagiaan di dunia ini dan bunga-bunga adalah salah satu dari banyak kebahagiaan itu.)
On your journey, do not forget to smells the flowers. Take time out to notice that you are alive. You can only live in one day – Ray Fearon.
(Dalam perjalananmu, jangan lupa untuk mencium bunga-bunga. Ambillah waktu untuk melihat bahwa kau hidup. Kau bisa hidup hanya dalam satu hari – Ray Fearon.)
Flowers are the music of the ground. From earth's lips spoken without sound – Edwin Curran.
(Bunga-bunga adalah musik yang berasal dari tanah. Dari bibir bumi yang berbicara tanpa suara – Edwin Curran.)
The fragrance of flowers spreads only in the direction of the wind. But, the goodness of a person spreads in all directions – Chanakya.
(Wangi bunga-bunga menyebar hanya mengikuti arah angin. Namun, kebaikan dari seseorang menyebar di semua arah – Chanakya.)
Many flowers in this world have unique shapes and colors, just like you. You may be different but, just like those unique flowers, it is not a problem.
(Banyak bunga-bunga di dunia ini yang memiliki warna dan bentuk yang unik, sama seperti dirimu. Kau mungkin berbeda, tetapi seperti bunga-bunga yang unik itu, itu bukanlah masalah.)
There is a lot you can do to let someone know that you love them. One of them is to give them beautiful flowers. Flowers and love never fail.
(Ada banyak hal yang bisa kau lakukan untuk membuat seseorang tahu bahwa kau mencintainya. Salah satunya adalah dengan memberikannya bunga-bunga yang cantik. Bunga-bunga dan cinta tak pernah gagal.)
The flowers always face the sun and that is the reason they grow so beautifully. You too can grow beautifully as long as you always face yourself to all your dreams.
(Bunga-bunga selalu menghadap matahari dan itulah alasan mereka tumbuh dengan indahnya. Kau pun bisa tumbuh dengan indah selama kau menghadapkan dirimu ke semua mimpimu.)
Your minds may now be likened to a garden, which will, if neglected, yield only weeds and thistles. But, if cultivated, will produce the most beautiful flowers, and the most delicious fruits – Dorothea Dix.
(Pikiranmu bisa disamakan seperti sebuah taman, yang akan, jika diabaikan, menumbuhkan hanya rumput liar dan semak berduri. Namun, jika dirawat, akan menghasilkan bunga-bunga yang paling indah, dan buah-buahan yang paling lezat – Dorothea Dix.)
Flowers are an easy, eloquent expression of love at a time when words can seem clumsy and inadequate – Lynn Coady.
(Bunga-bunga adalah ekspresi cinta yang mudah dan fasih di saat kata-kata bisa terdengar kikuk dan tidak cukup – Lynn Coady.)
Demikian beberapa kutipan tentang bunga dalam Bahasa Inggris.